Fire Damage Restoration Durham
911 Restoration Durham, is here to let Oshawa homeowners know that a fresh start after a fire is just a phone call away so contact us for help today!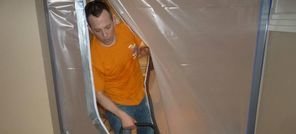 The licensed, bonded, and insured team will respond as fast as they can to be there for you in your time of need.
You get unprecedented service and expert care from a group that is:
Available 24/7/365
Response time of within 45-minute 
Same-day service to avoid things such as water damage
Latest drying technology
Always put the customer first
You deserve a fresh start and brand new day, so we are here to deliver you that. Day or night, you can always contact us.Give the fire damage restoration Oshawa team at 911 Restoration a call for immediate and expert care.
If your home has already experienced a fire and smoke damage event and you want the best in the business to take care of it for you, then contact the fire damage Durham team with 911 Restoration Durham today!
Fire Damage Explained
A smoldering fire from a charred carpet due to an electronics failure. When this happens the ember may be small, but the synthetic material may produce black smoke. This will leave a burnt looking stain on whatever it may come in to contact with.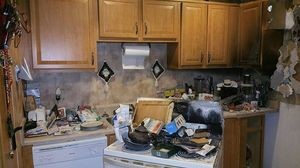 The reason being is that smoke is made up of hot gas and aerosolized particles. When this make-up hits a surface it will deposit the debris into whatever porous material your home is made up of.
The same is true of the water used to put out the fire. It pools and creates a soup of ash and soot. If these things are left long enough to stagnate, then the soot's acidic makeup can eat away at things. Moreover, it can also allow mould to fester.
Rarely is the fire the most difficult thing to remediate. Usually, the water damage can soak sheetrock, concrete, brick, or anything else.
For these reasons D.I.Y. remedies can quickly compound to headaches and rising costs. Instead, you should call a professional team like us at 911 Restoration Durham. For peace of mind fast, pick up the phone and contact us today!
Fire Damage Restoration for the Durham Community
"The Durham community is deserving of a second chance after fire damage. In fact, everyone is, which is why I try hard to be there for them," explains the owner.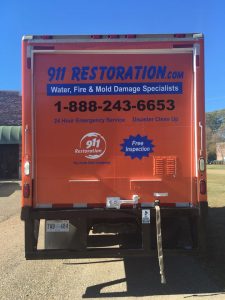 His team are IICRC certified so they can fix any disaster situation. Fire damage is a blend of damages that needs to be tackled by a one-stop shop, or else homeowners risk spending more on multiple companies.
Our group gives you service that arrives within the hour with all the tools required for a true and reliable restoration job.
Removing and remediating water damage is the first step. And since we know efficiency is key to your peace of mind, we attempt to always do as much as possible in one fell swoop. During that procedure we also remove any ash and soot that comes along with the water.
Afterwards, we use a treatment that involves an antiseptic solution. Water can give rise to mould and bacteria, which both produce unwanted odor. Sanitizing the space means these pesky problems are eliminated.
Following water remediation, we begin smoke removal. Doing this ensures that less needs to be replaced and that odors are expunged from the living space. Things that usually need replacing are textiles, but our fabric cleaning usually solves the problem the first time. For everything that cannot be salvaged, you can trust us to be honest with you.
The fresh start you need is only a phone call away, so contact the fire damage restoration Oshawa team with 911 Restoration Durham today!