Mold Removal Whitby North
If your home has recently undergone a water disaster, you need to immediately call the mold removal Whitby North team at 911 Restoration of Durham so they can make sure no mold growth has occurred.
We keep our representatives available 24/7/365, making it possible for you to schedule an appointment for virtually any time.
Once our mold removal Whitby North staff is on the scene we will be able to determine the extent of the infestation by conducting a free visual mold inspection.
This ensures that both the homeowner and the repair workers know exactly what needs to be done in order to get your home back on track. Our mold removal Whitby North staff are trained to implement a comprehensive system of remediation, including:
Water damage restoration

Moisture extraction

Thorough drying techniques

Sanitization

Spore removal

Drywall replacement

Vapor Barriers

Air filters and purifiers

Mold testing

Cleanup services
You can trust that our IICRC certified mold eradication technicians have the experience and skills needed to make your home a safe environment again, so call our mold removal Whitby North agents today!
Our Mold Removal Specialists Make Cleanup Easy
When you hire us, you can trust that we have many years of experience eradicating all types of mold from many different homes.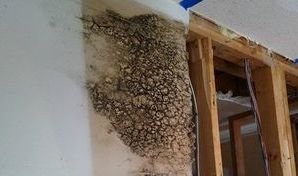 Our mold removal Whitby North pros know exactly where to look when they arrive on the scene, especially since fungus has a tendency to live in places where it is the most hidden.
These includes basements, attics, crawlspaces, air vents, underneath floorboards, between walls, inside ceilings, under carpeting and behind wallpaper.
Sometimes it is safer to get rid of certain items then try to clean them. So, when we fell it is necessary, our mold removal Whitby North crew will remove the affected drywall and replace it immediately.
We will do the same thing with carpet and other items in the home that have becomes either too saturated with mold or water. Call our mold removal Whitby North unit when you need the best fungal remediation in the industry, and we will provide you with the care you deserve.
Our Fungus Removal Techs Know How To Assist You Throughout This Ordeal
Once it is determined that mold has infested your home, it can be a tough piece of information to digest. Our mold removal Whitby North experts are here to help you understand everything that goes into the fungal eradication process.

Our customer service includes assisting you with filing your insurance claim. You can trust us to make sure your provider gets all the information needed to help you get the best coverage.
You can count on us to guide you through everything from start to finish. Our mold removal Whitby North professionals want to make this as easy as possible for you, so we completely dedicate ourselves to the job until it is perfectly completed.
By being so accessible to our clients we hope to give you peace of mind that everything is going to be ok with both your home and your family. Call us the moment you need professional assistance, and our mold removal Whitby North team at 911 Restoration of Durham will make your property better than new again.