Water Damage Pickering North
We want homeowners living in Ontario to know that they are protected by our technicians who are available 24/7/365 from flooding when the water damage Pickering North experts at 911 Restoration Durham are standing by around the clock.
All of our crew members have gone through the training needed to mitigate the following causes of water damage:
Washing machine overflow

Ruptured hoses

Flooding

Leaky shower pan

Ice machine Malfunction

Burst Pipes

Roof leaks
Within 45 minutes of receiving your phone call, our staff will send Pickering North flood removal pros to your home to begin implementing their restorative methods.
We are open all day, every day, including holidays, because we know how much damage sitting water can do when left untreated. In order to prohibit permanent damage, our Pickering North water extraction crew will provide you with same day services for all water-related emergencies.
Acting fast is critical to preventing rot, rust, structural damage and mold growth, so call our Pickering North flood mitigation team the moment you realize there is a problem, and we'll be there to take care of it today!

We Know The Best Techniques To Clean Up Mold
When water invades your home there can be multiple issues that spring from it, such as mold growth, fungus infestation and other forms of rot and loss that require experts like ours to eliminate safely.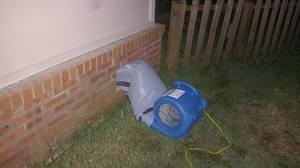 First of all, the home's structure can experience rot and rust if the water sits on its surfaces for too long.
The longer the water is left to fester, the greater the chances are that mold and fungus will begin to grow.
Mold removal is a pertinent to keeping your family safe, because when its spores are inhaled, they can cause some health issues, including allergy-like symptoms.
Our Pickering North water removal specialists will clear your home of all of the mold, find how the water is leaking into the property, and make all necessary repairs.
Call our offices to schedule a free home inspection, and we will get your home fungus-free in no time at all today!

Our Flood Mitigation Experts Care About Our Customers' Well-being
One of the most important aspects of home reconstruction is getting in touch with your insurance company soon after the damage has been discovered.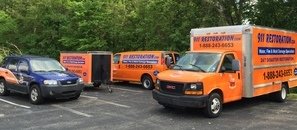 It is important to file your insurance claim quickly in order to increase your chances of getting sufficient coverage.
Our Pickering North flood cleanup profession als know exactly what information needs to be submitted to get your claim covered.
We don't want you worrying about the financial aspects of this process, so you can let us handle all the logistics of your insurance compensation.
You can also be sure that the Pickering North water disaster cleanup agents will provide you with affordable prices on all our water damage services, even if your insurance company denies coverage.
When you are experiencing a water emergency, call our IICRC certified water damage Pickering North remediation staff with 911 Restoration Durham and soon you will be experiencing a fresh start.