What Should You Do If Your Water Heater Is Leaking?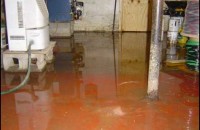 I love taking hot showers at the end of a hard workday, letting the day's stresses just drain down into the plumbing. When I first bought my home, it had a brand new hot water heater. However, it's been 11 years since I moved in, making my heater pretty old now. I don't want to be one of those people that has a major flood in my garage, so I researched a bit about water heater leaks. How do I know if my tank is leaking? There are several simple steps to follow for easy tank troubleshooting.
Observing the Tank
I was concerned that I had a leak because of that puddle near the tank. I was told not to panic, of course, so I cleaned up the moisture and observed the area. There are many pipes, along with the heater, that can form condensation. Similar to an iced drink, condensation forms on the tank and nearby pipes until they warm up during use. I looked for excessive condensation and any slow leaks from nearby pipes. I didn't observe any of these problems, so I moved on to more troubleshooting techniques.
Finding the Leak
After wiping away the water, I laid paper towels down in the same area. I asked my friend to turn on the hot water in the kitchen. As I heard the tank turn on, I watched the paper towels for any water accumulation. After several minutes, I saw some drips coming down from the tank's base where the wall and base end connect. With careful observation, I found my leak.
Electrical and Gas Safety
I knew I had to stop the tank from leaking before it caused any extensive damage. The gas dial resides right near the tank, so I turned it to off immediately. After carefully turning off the gas, I knew the water would slowly cool, making it safer if the tank did fail catastrophically. Some of my neighbors have electrical heater tanks, however. They have to shut their circuit breaker off at the main panel to stop any power from activating the damaged tank.
Turning Off the Water Valve
I grabbed my sturdy ladder and climbed upward to access the tank's water valve. I carefully closed it, making sure that I didn't accidentally touch any water. Any leaking water from the tank is extremely hot and could burn me. After climbing down, I realized that my tank may need a professional's evaluation. I didn't want to use it until it worked correctly.
When a Professional Needs to Be Called
My leak turned out to be a huge crack along the inside of the tank. I wouldn't have noticed this crack until the tank literally opened up at the leak site. After calling a professional, they were able to drain and inspect my tank. It turns out that I needed a new one. Patching a crack is just not possible. For now, I have a brand new water heater that will last another decade of hot showers.